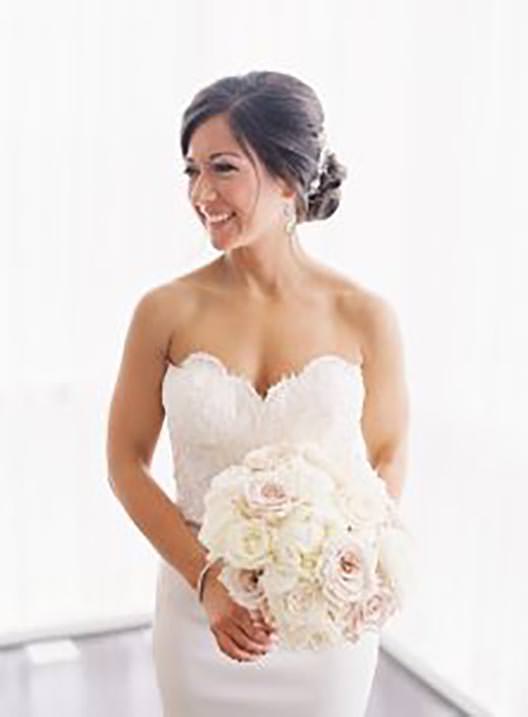 Get that just off the beach glow with a custom organic airbrush spray tan. We only use the best organic solutions on the market, which give you a natural, never orange, glow. Airbrush tanning can simply not be duplicated by spray tanning booths or creams. A certified spray tanning professional will come to your home or office and provide you with an instant tan that will last for days. An Amie Decker Beauty client is never orange.  Within 10 minutes of your tan you can be on your way. No need to hide and wait. Our quality cosmetic bronzer gives you an instant glow while our organic solution is working its magic. We specialize in natural looking tans for Brides and special occasions. If you have a special event or just want to look smashing give us a call or email us for an appointment.
Sunless airbrush tanning provides an instant tan look without the skin encountering the damaging effects of UVA and UVB light. This sunless tan is possible by cosmetic bronzers, think foundation, as well as the ingredient DHA. DHA, which stands for Dihydroxyacetone is the main ingredient that causes the top layer of your skin to change color, this is not a dye. Often is comes from plants like sugar cane and sugar beets or by fermenting glycerin(Wikipedia).   DHA has been FDA approved since the 1970's for cosmetic use.  Amie Decker Beauty is proud to use organic solutions and organic DHA. The solution is then customized for the client; we can add more cosmetic bronzers or increase the DHA for different effects. Amie Decker Beauty uses a turbine, or HVLP airbrush machine specifically designed for tanning. Once the solution is in the gun we are ready to go and will have you in and out in 5-7 minutes. Some airbrush tanners pride themselves on the "2 minute" tan but we believe in order to ensure even color distribution and precision we would rather take more time with each client.
Services
$48 Custom Airbrush Individual Session: This session is designed for anyone looking to achieve a natural and healthy tan. Our certified technician will customize a tan for you. The results are instant. We use an Organic solution to give you the most natural results, never orange. A cosmetic bronzer, which can also be customized, is added to the solution, for instant results. This bronzer washed off and what's left is a natural beautiful tan that with proper care will last up to a week.
$35 Tanning Party: Anyone can have a tanning party. No exclusions..yes even brides! Gather your friends for a night of fun and happiness. Eat, drink and be tan! A minimum of 6 participants is required for the discounted rate of $35 each. If you have 10 participants then the host/hostess is FREE.
$90 Bridal Package: Everyone wants to look dynamite on their wedding day. Having perfect skin is just one of the many things you will want taken care of for the wedding day. You will receive the two custom airbrush tans.  Included are 2 tans, one trial and one tan to be used before the special day. We recommend the trial taking place 2 weeks before the big day. This will help settle your mind and answer any questions you have about what to expect. Don't forget about your groom! Men love this too. Have a tan party to see if it's for you.
Click HERE to view some of our Custom Airbrushed brides on their wedding day!