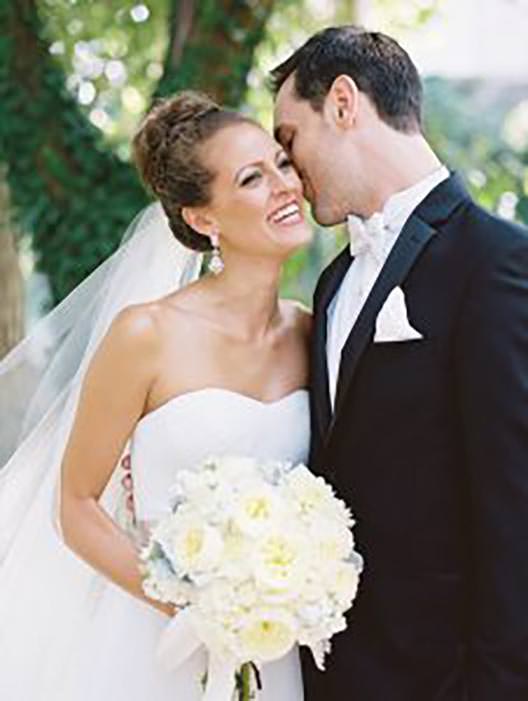 Important Wedding Day Makeup Info
1. Please make sure all members of the party have clean faces!
2. Each person takes about 30-45 minutes. Please make sure all your girls are ready when their time comes. Any gaps between girls could delay the process and exceed the time you must be ready.
3. Please be able to provide a space for the makeup artist to set up! All we will need is a counter top or table near an outlet. Close to natural light is best!
4. Please pay with cash or check. Credit cards are not accepted on-site.
Important Wedding Day Hair Info
1. Please make sure all members of the party, that are not getting a blow out, have clean dry hair (volumizing product in hair is recommended).
2. Please be able to provide a space for the hair stylist to set up! All we will need is a table near an outlet and a low back chair.
3. Please pay with cash or check. Credit cards are not accepted on-site.
Hair and Makeup FAQ
I love what I have seen and heard, how do I reserve the date?
We require a contract and a nonrefundable $100 deposit per artist (which is applied to your contract total) to reserve the date.  If you would like to have a trial before signing a contract we are happy to schedule that but please keep in mind that your date is not secured with out the contract and deposit. To find out specific pricing and availability, contact us at info@amiedeckerbeauty.com
What type of makeup do you use?
We are freelance makeup artists and we do not work for a makeup line so we use a lot of different types of makeup.  All of the makeup we choose for our kit is based on experience from close to 1000 weddings and we are always continuing to add the best new products on the market for our clients. We use both airbrush foundation and traditional foundation and like to choose what is best for each individual client's skin and preference. Some of the other makeup lines we use include Tarte, Smashbox, Urban Decay, MAC, Sephora, Glo Skin Beauty, Anastasia, BECCA, Bare Essentials and many others.
Can I choose which artist I will be working with on the wedding day?
Absolutely!  Once you express your interest in reserving the date we will let you know which artists are still available for your date.  At that time you are able to commit to the makeup artist or hairstylist that you want to book for your wedding vendor.
Do I need to provide any of my own makeup?
We provide all of the makeup for the bride and everyone else who chooses to get their makeup done.  The only exception is if someone requests for us to use something of their own.
Where do you hold the trials?
We schedule a "Beauty, Brides, and Bubbly" trial night once a month at a studio in Savage Mill MD, located right off of I95.  This gives brides the opportunity to see their hair and makeup look together while we answer all of your beauty questions.  But do no worry, since we accommodate many out of town brides……if you are unable to make any of the scheduled trial nights then you will have the opportunity to schedule a trial with the artist you have booked for your date in her location of choice.  Click here to read more about our trial experience.
When should I schedule a trial?
We recommend doing a trial two to four months before the wedding.  It helps to do the trial close to the wedding because factors such as skin color, hair color & length and weight will be most similar to the wedding day.
Can I do more than one trial?
You are welcome to do as many trials as you please.  One trial is included with the Bridal package and every additional trial is $100 for each service.  If anybody else from the bridal party or family wants a trial it is also the same price for them.
How many people's makeup and hair can you do on the wedding day?
It really depends on the time frame we are working with.  We have done as many as twelve people for a bridal party.  If you are working with a limited time frame we offer the option to have additional hair stylists and makeup artists for a charge of $250 per artists.
What if I need only hair or only makeup?
We provide either or both services.  Many times brides only need one service and we offer contracts for hair and makeup services separately.
Important Trial Info
-feel free to bring any photos with you of hair and makeup options that you like
-bring any hair pieces, veil, ect to get the full picture of the wedding day style
-wearing a top in a similar color to your wedding gown helps for visualizing the makeup with your gown
-please bring the $100 fee for the makeup trial and $100 payment for the hair trial (which is applied to your contract total) in cash or check
-come prepared to have a good time!
Tanning FAQ
How long does it take to become tan or see results and how quickly will the solution dry?
The sunless tan session takes between 5-7 minutes per client. The effect of the cosmetic bronzer is instant. Before you are out of the booth you will be tan! We recommend that you wait an additional 5-10 minutes before getting completely dressed. If you can take advantage of the Hydration treatment, this actually helps nourish your skin. Your skin will dry and be less sticky. The DHA can take anywhere from 2-24 hours to fully activate. This is why there is a bronzer in the solution so you don't have to wait! Once dressed you are ready to face the world, but please make sure to read all our preparation recommendations to ensure your tan lasts.
My friends have used self-tanners in the past and they were orange and had streaks why?
Ingredients and application. Without professional equipment it's almost impossible to get a streak free golden tone. Your self-tanner lotion has ingredients that actually are counterproductive. In order for the DHA to absorb properly, therefore avoiding orange and streaks, you should not have applied moisturizer to your skin that day. So why do they sell moisturizers with DHA? Because used in combination with a professional tan they can extend your tans life and give you beautiful results. But simply applying lotion to your skin for a week can't achieve what a professional can when they are using quality equipment and ingredients.
How do I prepare my skin so I get the perfect Sunless tan?
Before Sunless Tan Application
1. Shave –  at least 24 hours prior to sunless application. Your pores need time to close before you apply tanner.
2. Exfoliate – This is vital. Use a body scrub, many are available at local retail stores. Try one with sea salt.
3. Do Not Moisturize – this may be hard for some of you. But your moisturizer can act as a barrier.
4. No Perfume – try to avoid lathering or applying anything to your skin prior to tanning.
What do I wear?
Clothing/Bathing Suits
1. Ladies- disposable thongs provided, a minimum requirement. A bathing suit or underwear can be worn also.
2. Gentleman – bathing suit trunks or underwear must be worn.
3. After your Sunless tan we advise that you wear loose fitting clothes, this help eliminate uneven lines caused by fabric rubbing on the skin.
4. The solutions are washable so it shouldn't stain your clothes. However we can't guarantee this so please use your best judgment and dress appropriately.
How long does a Sunless Airbrush Tan last?
Up to one week
1. Everyone skins sloughs off at different rates, but proper care can extend the life of your tan.
2. Make it last by following our recommendations. Limit exfoliation and increase moisture.
3. Drink lots of water and MOISTURIZE MOISTURIZE MOISTURIZE..Remember moisturize after not before.
How do I take care of my sunless tan?
After Care
1. Let the solution dry completely before resuming activity. This usually takes about 10-15 minutes.
2. DO NOT GET WET- not even your hands. You will need to stay as dry as possible, includes sweat, for as long as possible. Try and wait at least 5-7 hours.
3. Wait as long as you can to shower. DHA can take up to 24 hours to fully activate but if you can wait 12 hours before showering or swimming you will be better off.
4. When you shower avoid exfoliating your skin. The DHA has only penetrated the top layer so if you slough it off, you will erase your tan.
5. MOISTURIZE – we can't emphasize this enough. Dryness is the main cause of early fading.
6. Drink water, this hydrates you from the inside out.
What are your website policies?
What information do we collect? When ordering or registering on our site, as appropriate, you may be asked to enter your: name, e-mail address, mailing address or phone number. You may, however, visit our site anonymously. What do we use your information for? Any of the information we collect from you may be used in one of the following ways:• To improve customer service
(your information helps us to more effectively respond to your customer service requests and support needs)• To send periodic emails
The email address you provide for order processing, will only be used to send you information and updates pertaining to your inquiry.
Do we use cookies?
We do not use cookies.
Do we disclose any information to outside parties?
We do not sell, trade, or otherwise transfer to outside parties your personally identifiable information. This does not include trusted third parties who assist us in operating our website, conducting our business, or servicing you, so long as those parties agree to keep this information confidential. We may also release your information when we believe release is appropriate to comply with the law, enforce our site policies, or protect ours or others rights, property, or safety. However, non-personally identifiable visitor information may be provided to other parties for marketing, advertising, or other uses.
Third party links
Occasionally, at our discretion, we may include or offer third party products or services on our website. These third party sites have separate and independent privacy policies. We therefore have no responsibility or liability for the content and activities of these linked sites. Nonetheless, we seek to protect the integrity of our site and welcome any feedback about these sites.
Childrens Online Privacy Protection Act Compliance
We are in compliance with the requirements of COPPA (Childrens Online Privacy Protection Act), we do not collect any information from anyone under 13 years of age. Our website, products and services are all directed to people who are at least 13 years old or older.
Your Consent
By using our site, you consent to our web site privacy policy.
Changes to our Privacy Policy
If we decide to change our privacy policy, we will post those changes on this page.
This policy was last modified on 9/04/2011