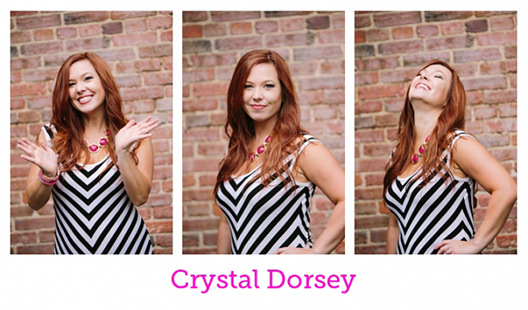 Enjoy a little Q&A with Amie Decker Beauty hairstylist Crystal Dorsey.  Crystal has been styling hair professionally for over 10 years in the salon and for weddings.  She has been adored and admired by many of the girls on the ADB team and we were overjoyed when she decided to join us.  Her bubbly and joyful personality paired with her extreme talent make her a "Bride favorite".  She loves create any style, soft and romantic, edgy and modern or sleek and sophisticated.  To see more about Crystal's work you can read about her Bio and See her Portfolio.
Favorite Wedding Movie: Can it be an episode from a show? I LOVE the episode from The Office where Jim and Pam get married. Makes me cry every time especially because against their wishes all their guests simulate the viral YouTube video where the bridal party dances down the aisle to, Forever by Chris Brown. If I must pick a movie I'd have to choose, my wedding video! I'm often teased by friends and family about how often I view it. 😉
Makeup Item you cannot live without: I cannot live without eye shadow primer- it makes ALL the difference!
Guilty pleasure:  Naps. I love them any time anywhere. Especially on car rides….. When I'm a passenger of course. 😉
How many times have you been a bridesmaid? Matron of honor twice and bridesmaid 5 times.
What is your dream wedding gown? Deep V back, lots of crystal beading, a lot of soft textures, defiantly some lace somewhere, maybe as part of the neckline. There's just a million gowns admire.
Why did you choose to become a hairstylist? I was born to be a hairstylist. It's fun, creative, always new, i get to meet new people, have contant girl talk, and make people look and feel like beauty queens day after day!
Have you ever had a beauty disaster? The first few years of my teens were constant Beauty disasters! But in resent years the one thing that stands out to me was a terribly dark and orangey  spray tan I was given right before being in a November wedding! I still apologize to my friend for ruining her wedding pictures!